Expedition Overview:
Name: Muztagh Ata (father of Ice Mountains in Uyghur)
Elevation: 7,546m (24,757 ft), Ranked 43rd highest in the World
Coordinates: 38° 16′ 42''N / 75° 06′57″E
Number of high camps :there are 3 high camps , camp one(5200m),Camp two (6200m), Camp three(6800m)
Best Time to Climb: June, July and August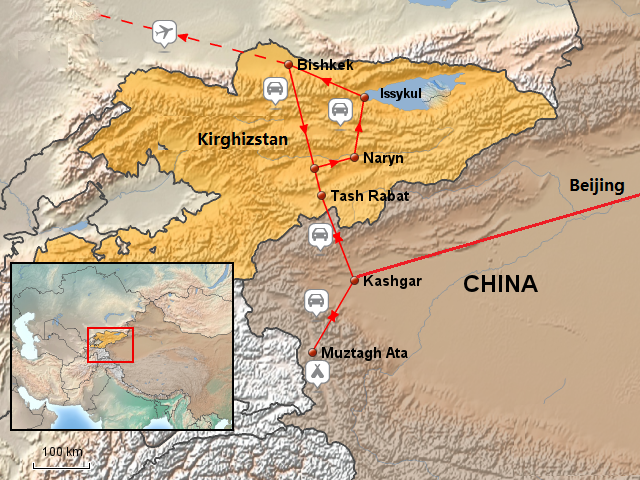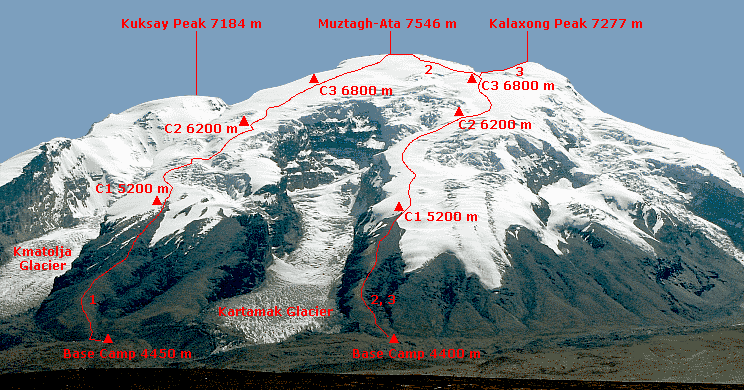 Muztagh Ata Climb lies in the centre of the great mountain ranges of Asia, with the Karakoram to the south, the Pamir to the west, Kun Lun and the Tien Shan to the north. The last main settlement before our approach to the mountain is Kashgar, an interesting small town situated on the old Silk Road. Mosques rise above mud-thatched houses and donkey carts still trundle through the many small alleys. It is from here we transfer to Subashi and then on foot to Muztagh Ata Base Camp supported by a caravan of camels.
Muztagh Ata meaning 'The father of ice mountains', rises out of China's vast Takla Makan Desert in the Xinjiang Province of China and provides the opportunity to climb a mountain over 7500m with minimal technical difficulty. For those with the appropriate skills, it is often used as a stepping stone to an 8000m peak which could include Everest.
Location: 215km away from kashgar, Muztagh Ata regarded as being part of north western Kunlun Mountain range, but it is geographically more closer connected to the Pamir mountain range, Karakoram highway, which is highest paved international highway in the world to link China with Pakistan through Kunjirap pass, just passes through very close to both Muztagh Ata and Konggur Tagh as well as Karakul lake, it is easily accessible from the Highway to Base Camp of Muztagh Ata.
Muztagh Ata 7,546m(24,757 ft ), which is second highest mountain in Kunlun range, lies just south of Konggur Tagh(7649m) ,highest in Kunlun range ,and south west of Karakul lake, Together they form somewhat isolated group with many other 7000m peaks around, and isolated from the main chain of the Kunlun,
Camp 1 -Camp 2 route
Difficulty Level: Muztagh Ata is Most Popular 7000m easiest peak in the world to climb by being Technically not difficult and good for not very competent mountaineers, you can just walk up all the way to the summit, most difficult part is from camp one to camp two that you will take the zig zag track and facing the two crevasses on the way, rest of the way is just a trekking,
Other difficulties are bad weather ,thick snow ,some times it snows in high camps very thick like one miter or half deep, it makes it very difficult to walk on that fresh snow even with crampons ,so you need to wait day or two until the snow hard enough to walk on it,until top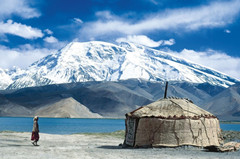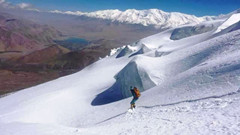 Departure,
The July,the August, fixed departure au minimum 1 person (2021)
The June,the September, fixed departure au minimum 2 person (2021)
Day 1/ Arrive in Bishkek (or Beijing)
Day 2, 3/ Transfer to Kashgar by Naryn(or flight to kashgar by Urmuqi)
Day 4, 5/ Karakul Lake (3,650m), Mustagh Ata Base Camp (4,400m)
Day 6 to 19/ Mustagh Ata Ascent (7,546m) with three altitude camps
Day 20, 21/ Return to Kashgar. Sunday Market.
Day 22, 23/ Road for Bishkek(or flight to Beijing).
Day 25/ Depart from Bishkek(or Beijing).

Eleven sheduled departures of Muztagh Ata Expeditions in 2021

We have eleven sheduled departures for Muztagh Ata expedtion in 2021,welcome for any consult,thanks

00. 05.June (date of arriving at Kashgar)

01. 10.June (date of arriving at Kashgar)
02. 13.June (date of arriving at Kashgar)
03. 20.June (date of arriving at Kashgar)
04. 24.June (date of arriving at Kashgar )
05. 05.July (date of arriving at Kashgar)
06. 12.July (date of arriving at Kashgar)
07. 18.July (date of arriving at Kashgar)
08. 24.July (date of arriving at Kashgar)
09. 30.July (date of arriving at Kashgar)
10. 06.Aug (date of arriving at Kashgar)

One extra confirmed departures in 2021,

01. 27.July (date of arriving at Kashgar)


If you are a group or indepandent alpinist,pls contact us to join our expedition to share the cost.We are waiting you here.